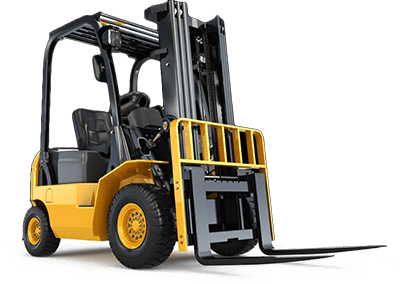 FORKLIFT TRACKING AND RTLS FOR INDOOR FLEET MANAGEMENT
Dragonfly is our patented Visual SLAM (vSLAM) technology, which lets you perform forklift tracking and track moving vehicles inside warehouses.
As a result, Forklift Tracking is now possible using Accuware Dragonfly. This RTLS (Real Time Locating System) enables precise tracking of moving vehicles, indoors.
Dragonfly can deliver an accuracy of up to 5 cm and does not require UWB, BLE or the deployment of specific hardware. Therefore it is easy to roll out inside any type of environment.

It is a must-have in the digital supply chain era.
What are the benefits of using Dragonfly for Forklift Tracking?What is the ROI of Forklift Tracking?
If you would like more information about how to track forklifts with Dragonfly, and would like to integrate it with your WMS, contact us.
In the IoT era it is important to have tools to monitor assets improve the efficiency of operations by using innovative technologies. Dragonfly has been selected by our customers to bring the forklift management to a new level. In the digital supply chain and digital factory era, innovation plays a crucial role. For this reason, at Accuware, we strive to deliver cutting-edge technology that brings real benefits to our customers.
Dragonfly for Forklift Tracking and Indoor Fleet Management in the digital supply chain era
Dragonfly is a Visual SLAM technology that provides very precise location and that can be used for precise forklift tracking inside warehouses.
"Visual SLAM" means that it does not require external sensors or antennas and works using just a camera mounted on board.
It can be used for indoor tracking of forklifts and fleet management. You can install our Dragonfly Kit on board the forklift, possibly on the mast or on the overhead of the vehicle.
Finally, remember that the camera should be at the top of the vehicle, pointing towards the ceiling.
Dashboard, KPI and Location
Dragonfly allows to monitor the real time location of the forklift from a dashboard.
It is possible to see historical paths as well, and to access analytics showing important KPI, such as the average speed, distance traveled, time in use/unused and heatmaps.
In addition, the location of the forklift can be integrated into Warehouse Management System (WMS) so that the data can be used to improve the operations. For this reason, Dragonfly comes with API and our team can work on custom integrations, too.
Are you ready to get started?
Get your Dragonfly Kit now to test Dragonfly and understand its potential: if you are not happy with it, we will give you a full refund.
Forklift Tracking with a RTLS System lets you understand how Forklifts are used.
As you know, understanding how Forklifts move throughout a warehouse has always been a need. Knowing how forklifts move and how operators use them can significantly improve the operations management and productivity.
Having an overview of the movements and utilization patterns of forklifts can let you cut the business expenses by optimizing the operations.
Forklifts and Lifting Trucks are a necessary part of the manufacturing, transportation, and warehousing industries. Yet, many businesses only use them to a fraction of their maximum potential.
Collecting the location of forklifts and being able to track this data over time can lead to great improvements.
A forklift location overview is important.
The amount of data that you can collect from forklift tracking is tremendous and has a crucial importance for business analysis:
How long does an operator take to get a pallet?
What are the most used routes?
What are the most congested areas?
Where and when do the most of the accidents happen?
For this reason, Dragonfly is used to collect data inside the warehouse and can be used to collect data outside the warehouse (sometimes in combination with a GPS unit). The possibilities of data collection related to forklifts are many:
Precise Indoor location
Driving speed
Acceleration (G-forces)
Custom sensors (Temperature, Humidity, Other sensors…)
Alarms Inside/Outside predefined area
Driving speed over a certain limit
Most active warehouse areas
Average time to pick a palletet
Driving behaviour
Rest times
Usage time
Speaking of cost, a large warehouse can have dozens of forklifts and similar vehicles operating at the same time on the floor.
A big fleet can have a significant impact on your budget, as you already know. The purchase or leasing of vehicles, maintenance, electricity for recharging, and the expense of extra workers to operate those vehicles are costs that businesses are constantly facing.
For these reasons, implementing a Forklifts Tracking solution can help you control and reduce these costs:
Increasing Forklift Utilization
Dragonfly allows managers to analyze vehicle usage with an aim towards improving efficiency. When you are better able to use your existing equipment, you may be able to reduce the amount of vehicles on the floor.
With a smart combination of hardware and software, Dragonfly provides the manager the ability to keep their fleet at high efficiency levels and therefore save money.
Optimizing Routes
Without a proper procedure in place, operators are forced to figure out the best routes to take across the floor on their own. This can lead to errors and accidents. Sometimes operators need to backtrack because of other vehicles, pedestrians, or even pallets that were in the way. This wasted time could be used to fill other orders.
With Dragonfly you can understand which are the most crowded routes, where operators have to backtrack often, where the most of the accidents happen, and plan the best routing model for the future, thus improving the overall operation management.
Speed Limiter
Dragonfly is able to detect forklift and lifting truck speed and acceleration. This enables the possibility of configuring speed limits throughout the warehouse or inside specific areas and geo-fences. The operator can receive an alert when the speed is over the limit. In some cases it is also possible to configure the forklifts to limit their speed automatically. In these cases Accuware's engineering team can design and develop the on-board controlling system.
Dragonfly also keeps a record of all the events and activities so that they can be reviewed and analyzed to improve operator efficiency and overall safety.
If you would like more information about how to track forklifts with Dragonfly, and would like to integrate it with your WMS, contact us.
Testimonials from real customers
Incredibly helpful technology. Most intelligent customer service experience I've ever had.
With Dragonfly we are now able to locate and track hundreds of forklifts across 28 warehouses in the USA. The ROI generated is way higher than our expectations, since we have been able to optimize the routes, picking processes and aisle management.
A wonderful Support team and a very useful product, very well structured.
The team has been very supportive and the installation is fairly simple. We hope to keep moving ahead with you and the approach you suggested supports that. Again, we appreciate the continued support and direction as we work through our proof of concept and pilot phases.
We speak English, Spanish, French and Italian.