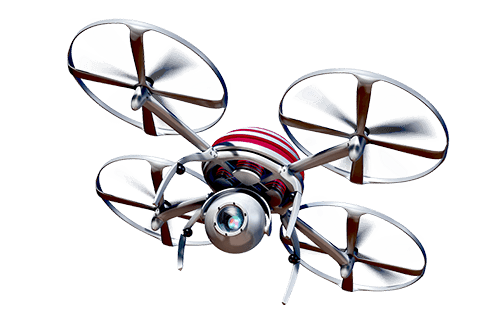 VISUAL SLAM IS A TECHNOLOGY BASED ON COMPUTER VISION FOR PRECISE INDOOR LOCATION AND POSITIONING.

In particular, Visual SLAM refers to the complex process of calculating the position and orientation of a device with respect to its surroundings, while mapping the environment at the same time, using only visual inputs from a camera.

For example, Accuware Dragonfly is a visual SLAM technology.
Introduction to Visual SLAM
SLAM stands for "Simultaneous Localization and Mapping". This means that the device performing SLAM is able to:
Map the location, creating a 3D virtual map
Locate itself inside the map
Visual SLAM, also known as vSLAM, is a technology able to build a map of an unknown environment and perform location at the same time. It simultaneously leverage the partially built map, using just computer vision. As a result, Visual SLAM uses only visual inputs to perform location and mapping. This means that the only sensor required is a camera that has to be mounted on board of the device. No other external sensors are required, thus making this technology more flexible than LIDARS or UWB.
Today, with the great improvements in automation and robotics, vSLAM is one of the most challenging open problems for developing autonomous robots and vehicles.
For this reason, we have developed and created Accuware Dragonfly to solve this problem. We are proud to offer a robust and reliable technology for precise indoor location of robots, drones, autonomous vehicles.
In conclusion, Dragonfly is a unique patented vSLAM technology that can work with monocular and stereo cameras. In addition, it is able to provide an accuracy up to 5 cm, without the use of LiDARs or of motion sensors.
Do you want to know more about Dragonfly?
How can visual SLAM be used and what are the applications?
Visual SLAM can be used in many ways, and its main scope is to provide precise location to autonomous devices, robots, drones, vehicles.
As a result, we work with different companies all around the world to address multiple requirements and projects with Dragonfly. This is a partial list of the typical use cases that can be addressed by Dragonfly:
 Provide location to robots and drones. Dragonfly comes with a direct ROS integration, upon request, becoming the first SLAM for ROS technology;
 Remotely monitor the location of devices: Dragonfly can be used to track forklifts inside a warehouse for example, to optimize the operations;
 Integrate autonomous navigation on board of Unmanned Ground or Aerial Vehicles (UGV, UAV);
 Control the movements of machines for collision avoidance.
DRONES POSITIONING AND NAVIGATION
Drones can be programmed to use Dragonfly as a location engine, and the location data can be used as a source for autonomous navigation. In addition, ROS nodes available upon request to integrate Dragonfly SLAM for ROS.
Robots and automated devices can be tracked using Dragonfly, with an extremely high level of precision. Furthermore, ROS nodes available upon request to integrate Dragonfly SLAM for ROS.
It is possible to install Dragonfly on Forklifts, to monitor their movements inside warehouses and improve the operation management. As a result Dragonfly is currently used by hundreds of companies for advanced warehouse management.
Dragonfly is a key component for indoor navigation. In particular, where GPS is not precise enough, or inside GPS-denied environments, Dragonfly can provide the optimal level of precision for autonomous navigation.
Feel free to contact us to speak about your use case: we will be glad to help and suggest the best architecture.
How can vSLAM be integrated?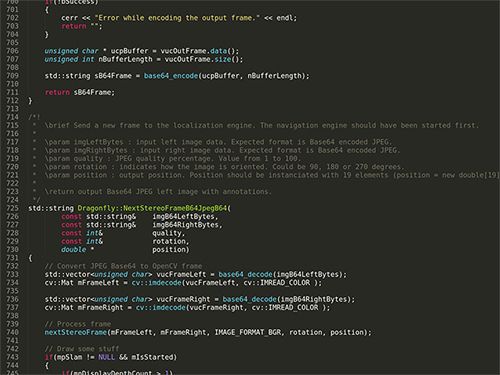 Accuware Dragonfly provides all the tools to developers to integrate vSLAM. For this reason, Dragonfly offers API able to provide the real-time location of the device, and the output is a complete 6-DoF. It includes:
X, Y, Z coordinates, expressed in meters from an origin.
Absolute WGS-84 coordinates (latitude, longitude) + altitude in meters.
Yaw, Pitch, Roll : these values indicate the rotation of the device on the three axes. You can read more about the principle behind the Aircraft principal axes on Wikipedia.
We are open to customize the API output upon request. In particular, our R&D team can tailor the payload to address different requirements (it is possible to add the speed indication, the deliver the output in other geographic protocols, to change the type of format…). So please feel free to contact us if you have custom requests.
SLAM for ROS
Accuware provides ROS nodes for direct ROS integration so that Dragonfly can be seamlessly integrated on board of Robots and devices using ROS.
Interested in the technical aspects?
Are you ready to test Dragonfly?
Testimonials from real customers
Incredibly helpful technology. Most intelligent customer service experience I've ever had.
With Dragonfly we are now able to locate and track hundreds of forklifts across 28 warehouses in the USA. The ROI generated is way higher than our expectations, since we have been able to optimize the routes, picking processes and aisle management.
A wonderful Support team and a very useful product, very well structured.
The team has been very supportive and the installation is fairly simple. We hope to keep moving ahead with you and the approach you suggested supports that. Again, we appreciate the continued support and direction as we work through our proof of concept and pilot phases.
We speak English, Spanish, French and Italian.